Introduction
Visconti is one of the more famous Italian fountain pen makers. Compared to our traditional favoured Japanese pen makers they are far more adventurous with their product, exploring both innovative construction, design and materials. Their higher end pens are undoubtedly luxurious but price far more reasonably than some of the ridiculous excesses of Mont Blancs limited editions.
We're big fans of demonstrator pens and have been thinking ubout picking up a Visconti for a while — so when we found ourselves killing some time in a small stationery retailer in Carmel, this one instantly caught our eye. At approximately $800 USD it is not a cheap pen, but after handling it in person and taking in the rich beautiful blue swirls (that so perfectly echoed the shades of our trip down the Pacific Coast Highway) and feeling the soft spring of the palladium nib, we just had to have it.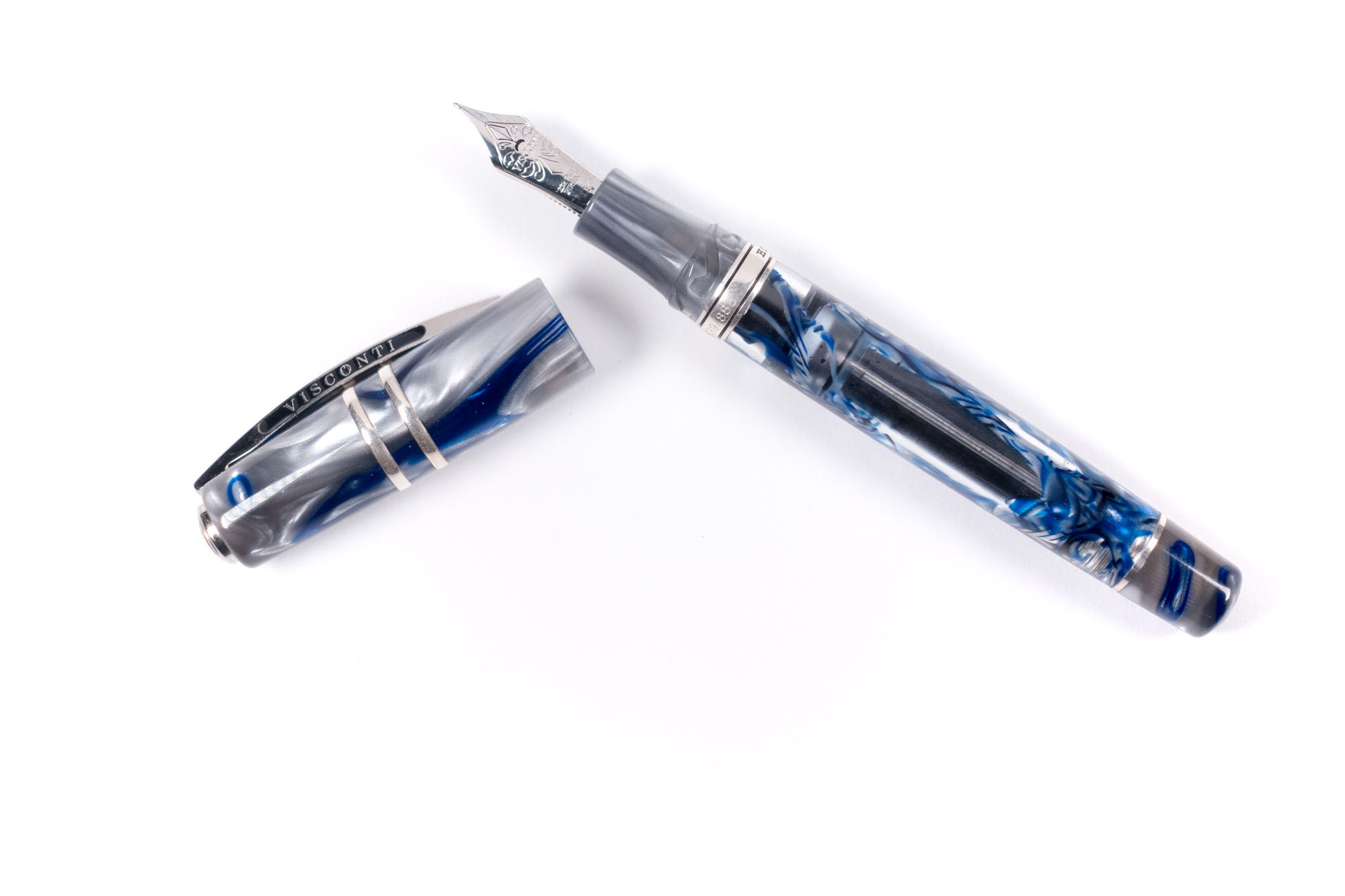 Likes
Supersmooth nib
Gorgeous swirls of colour 1
Small section is nonethless pleasant to grip - the Visconti locking system eschews traditional cutting threads for smoother detentes
Locking system for the cap is springy and comfortable to grip
Love seeing the ink swish around inside the barrel
Metal hardware looks great, especially on the cap
Grey plastic portions of the cap catch the light gorgeously lending a sublte sheen and depth
Dreamtouch palladium nib is wonderfully spring and fun to write with, though definitely not a flex nib
The "F" nib is relatively fine by western standards, striking a good balance between a controlled line and still putting out sufficient flow to see any potential gradiations in the ink
Piston mechanism works smoothly and without issues, although not filling as deeply as perhaps we would expect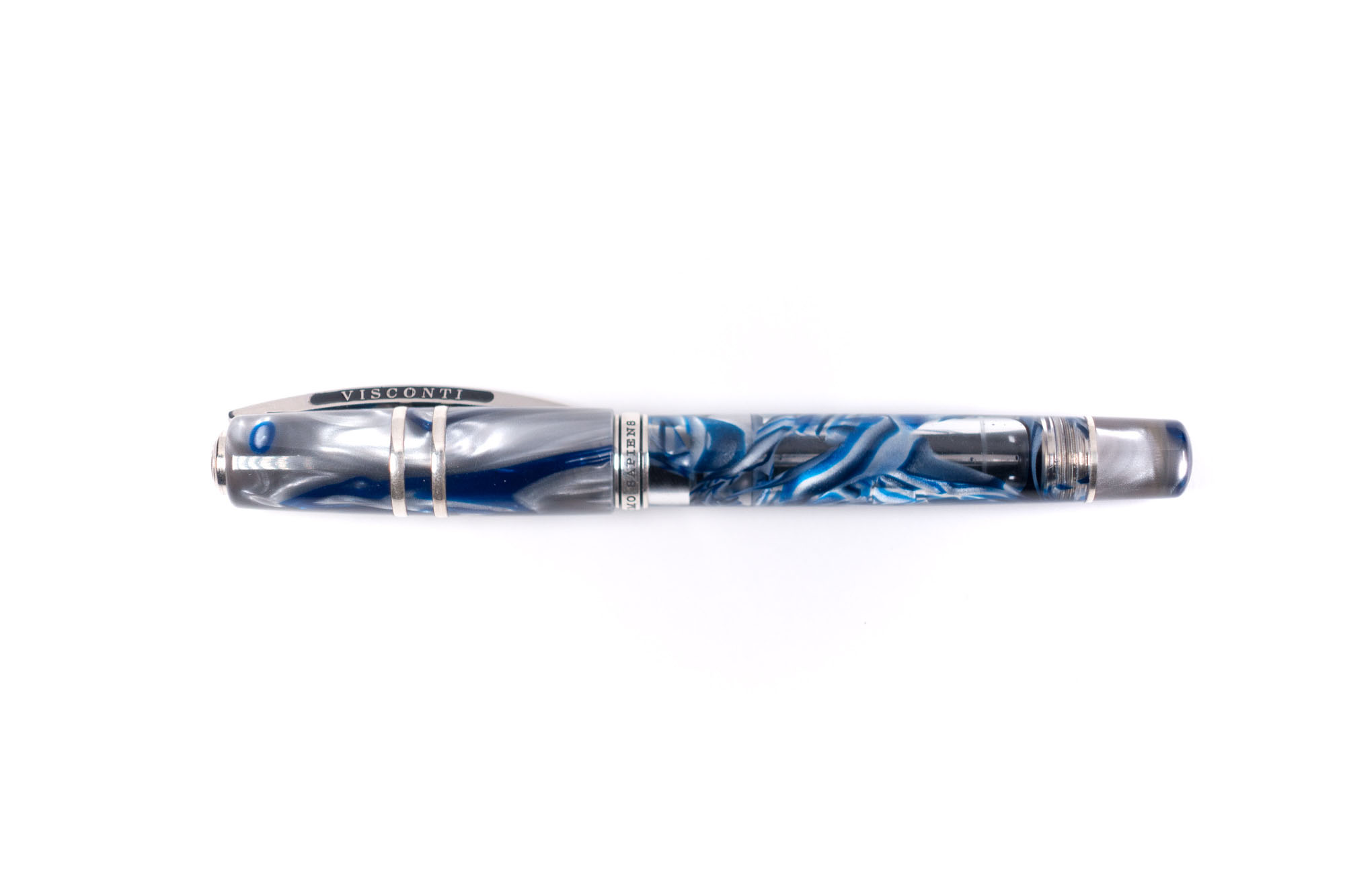 Dislike
The clip, as with most Visconti clips, is beautiful to look at but basically useless at actually clipping the pen to anything - we didn't even dare trust it
We noticed that despite the smooth piston fill action, the pen would only fill to about the halfway point - this may be by design but was nonetheless a bit disappointing since one would expect to fill more of the capacious interior
After a couple weeks of use we noticed a disappointing "ring" on the upper interior of the barrel where presumably the piston stops when drawn upward. Since we didn't ever leave the piston in this extended position it's quite disheartening to see this and we're flummoxed as to how it could have arisen.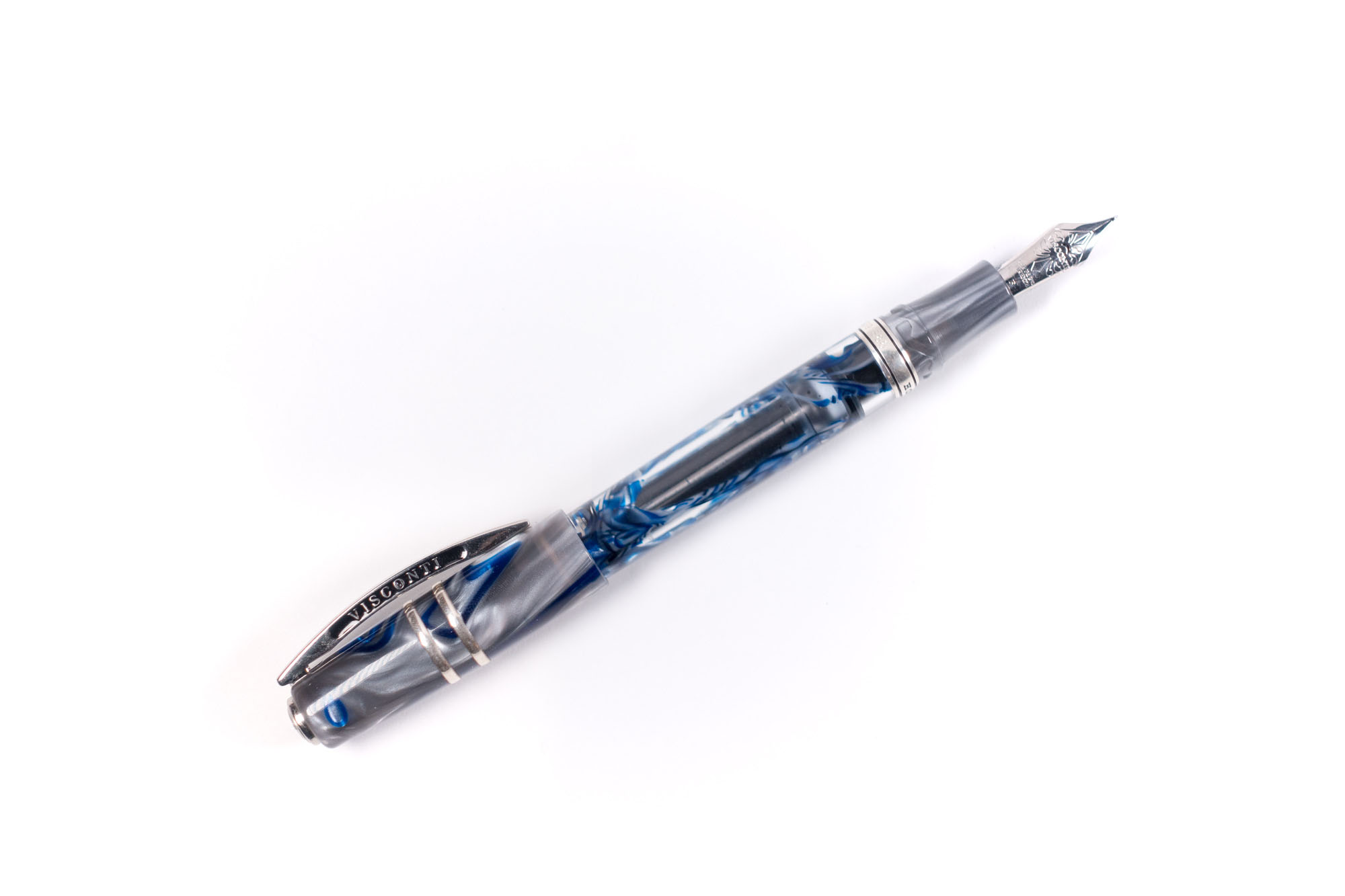 Summary
This is a beautiful pen to behold. It's lighter than it looks, writes super smoothly and is really how demonstrators should be done. You can write with it a posted but it is quite a bit back heavy in this case so we don't. The grey section may seem "cheapish" at first glance but the subtle pearlesence and depth makes it quickly grow on you. It's a relatively wet writer and we went through an entire fill in a single day of dedicated writing. Expensive, but we're glad we bought it.
Overall: ★★★★☆ (4/5 stars)
Given that the swirl pattern of each pen is unique, make sure you check it in person before buying if possible to ensure the design is to your liking. ↩