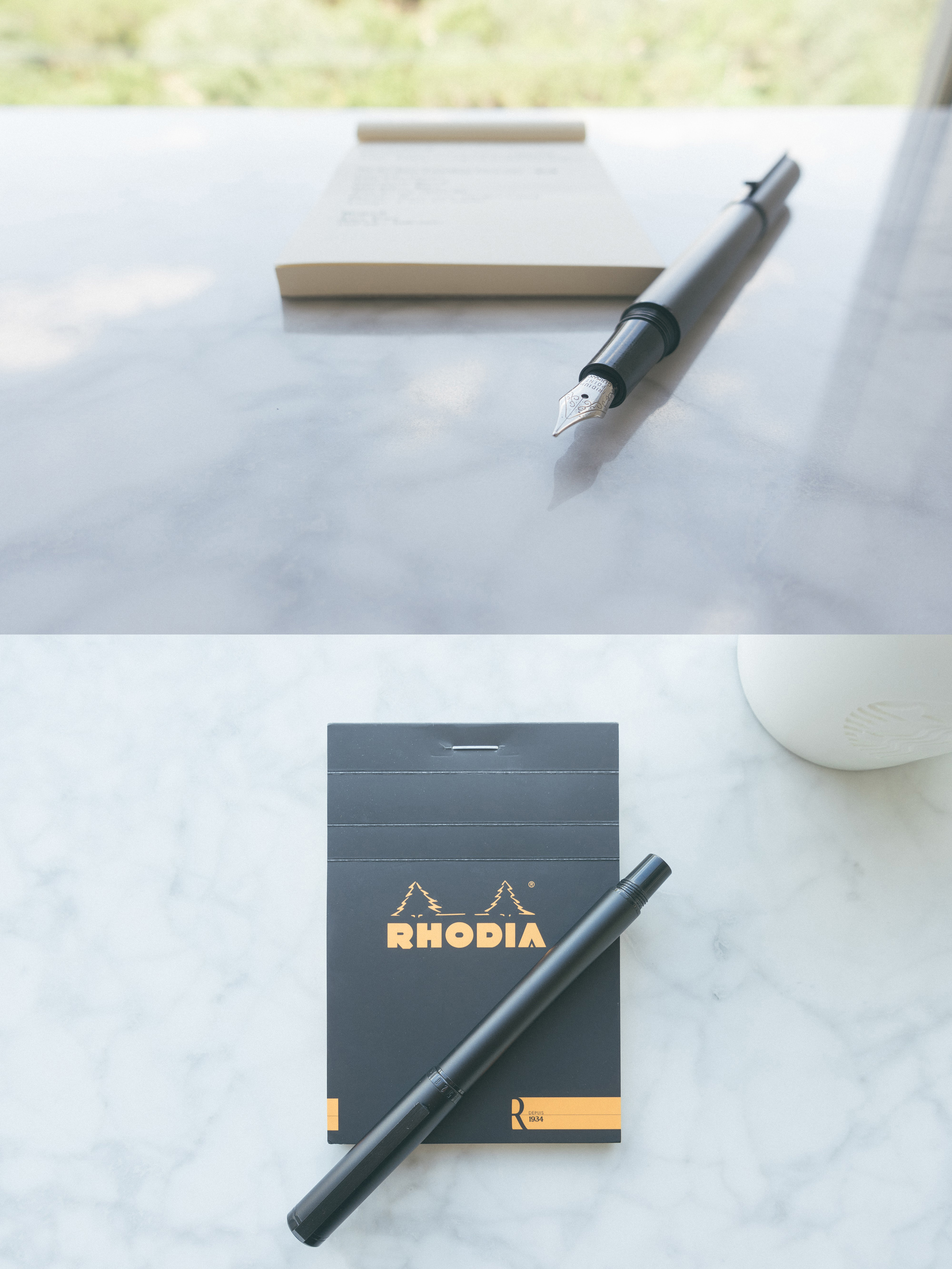 Reviewing the 5280 Aspire Black M
5280 is not a particularly well-known brand of pens — created by the Colorado Pen Company and named after its namesake city ("the mile high city - 5280 ft elevation) it serves as a house brand of the Paradise Pen Company.
Whilst not explictly branded as a "stealth" pen, the sleek minimalist black colourway, modern straight lines and matte brass body immediately caught our eye. Despite the fact that the pen is only available in an M (we prefer finer nibs) the clean design and extremely reasonable price point of ~$99 motivated us to pick it up on a whim.
Design
The body is crafted in a lacquered black brass, with lacquered appointments. It has a satisfying heft without being overly heavy.
The design is decidedly modern due to the straight lines and body material, but less high tech than the Levenger L-Tech 3.0 black with its hexagonal barrel and knurled grip
The pen clip is made of "lacquer" (feels like plastic) but features a very nice independent floating hinge.
The pen itself is a relatively dense 31g due to the all-metal construction. The slim design makes this weight manageable, and the pen feels "normal sized" in the hand relative to its weight
We don't believe in engraving our pens, but according to the manufacturer any inscriptions will show as brass due to the material construction.
Function
The cap and the end of the pen barrel as threaded - one screws the cap on to post, adding a slight bit of friction to the process
The resulting posted pen is very secure and slightly, but not distractingly - top heavy.
The threads do not "auto-align", which means that getting the clip to line up with the nib when posted is a frustrating exercise in trial-and-error
There is also a small amount of "play" once the cap is screwed on with the clip aligned properly, allowing one to "overtighten" it and push the clip ever so slightly out of alignment
The uncapped dry time is within the range of acceptable which is a good thing, given the extra action required to post/unpost the screw cap
The Aspire comes with a single cartridge, but easily accepts standard universal converters.
The German-made nib is crafted from stainless steel with an iridium point
Nib is available in a moderately-sized M only. It is a much more reasonable width than Montblanc M but still thicker than any Japanese M
The grip is relatively small and smooth. The threads that run into this section are not particularly sharp but depending on how high one chokes up to gain sufficient purchase on the small grip this may or may not be a bother.
Articulating the independently-jointed clip feels well engineered and purposeful, unlike simpler unarticulated designs that rely on material flex along the length for function. Despite our general disuse of pen clips, manipulating this element is one of our favourite parts of this pen.
In Use
Flow is wet and smooth with little skipping. Not as wet as a Montblanc, but a fair amount of ink per stroke (this depends on the ink you load as well).
Dry time was very fast and with no feathering or bleeding on high quality paper such as Rhodia R. Smoother/coated papers will incur a higher dry time given the amount of ink on the paper.
Despite our preference for Fine and Extra Fine widths, we found this suitable enough for sustained everyday writing.
The stroke and impression is decidedly casual (compare to the precise incisions of the Pilot Heritage Custom 912 EF), more suitable for personal use (note taking, letter writing) than business use in our opinion, but the latter is not out of the question.
The key flow and stroke is incredibly smooth in practise with zero scratching or catching - the controlled and wet flow makes it simply fun to write with.
Summary
Overall, the Aspire is an enjoyable and fun pen to write with - the stroke is semi-casual but crisp and suitable for a wide variety of everyday writing.
The ink flows smoothly and reliably and the stainless steel nib handles both cheap and fine papers without catching
The all metal build can take a beating and doesn't seem to require babying unlike more delicate resin-bodied pens
The stealth design, modern lines and black brass body make this pen seem at home in any Everyday Carry (EDC) kit - it evokes an image of utilitarian tools such as maglights or kubotans, but exhudes a refined modern sensibility equally at home in an architect's carry kit, for example
All of the above - plus the very reasonable price point - combine to create a pen that that is well suited to being a daily driver - tossed in a bag, clipped to a Rhodia notepad, tucked into a business attache — which is certain to invite and receive lots of everyday use.
Overall: ★★★★☆ (4/5 stars)